It's always a fantastic time when you're watching a game in The Greatest Arena on Earth™. And with so many amazing food and beverage experiences to take in before, after or while you're watching the action — be it on the ice, field or court — how can you choose? Let our handy guide to game day eats lead the way.
The Front Yard at Ellis Island Hotel, Casino & Brewery
This off-the-Strip favorite is the perfect place to catch your home, college or favorite team. Not only can you watch all the action all around you, but there's also a delicious menu of game-day favorites and some off-the-wall selections. From burgers and chicken wings to fried pickles and a giant pretzel, there's something for everyone at this place just behind the Strip. And with all of the sports action viewable on multiple TVs, Ellis Island is a fabulous spot to catch a game and enjoy a locally-brewed beer.
Tom's Watch Bar at New York-New York Hotel & Casino
Whether you're pre-partying before a night at T-Mobile Arena or watching a game on the big screen, Tom's Watch Bar is perfect for some game day eats. Cheer on your team with a plate of the restaurant's signature Deep Dish Nachos—maybe best washed down with a stein of beer from its extensive menu.
Guy Fieri's Vegas Kitchen & Bar at The LINQ Hotel & Promenade
A trip to Flavortown is always a great idea on game day! Watch your favorite team while enjoying delicious delights from the Food Network star, including burgers, chicken wings and shareables like the Jalapeño Pig Poppers.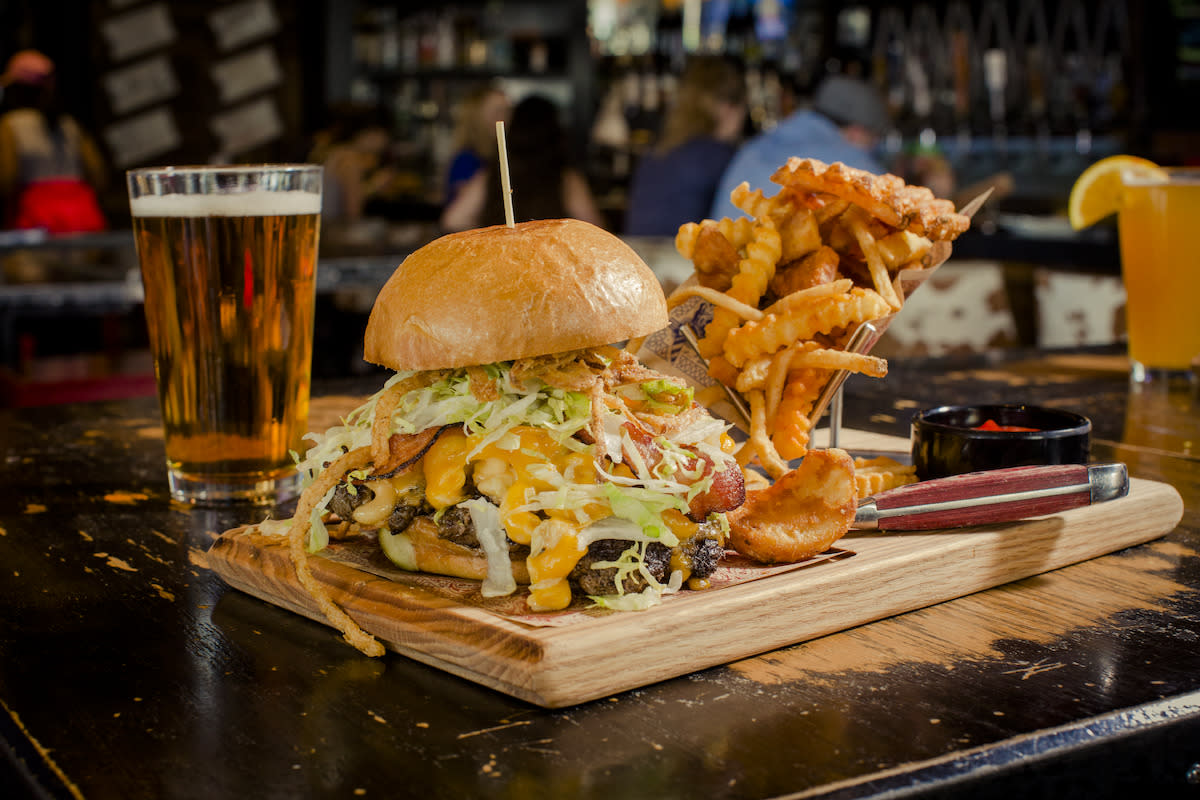 Guy Fieri's Vegas Kitchen & Bar at The LINQ Hotel & Promenade
Whether you're watching the Las Vegas Raiders take the field or one of the countless other marquee sports events at Allegiant Stadium, the eats here bring the game day to the next level. Sample local favorites like Evel Pie's pizza or a burger from Holsteins Shakes and Buns, enjoy elevated fares like sushi and deep-fried lobster tails or opt for the classics like hot dogs, popcorn, and pretzels.
Chickie's & Pete's Crabhouse & Sports Bar at SAHARA Las Vegas
A favorite of Philly sports fans, and even if you're not, this Philadelphia mainstay offers some specialties from the City of Brotherly Love. Watch your favorite team while indulging in some Philly Cheesesteak Nachos or four varieties of the famous sandwich, including lobster and Buffalo chicken options. The bar has some primetime viewing of your favorite game, with screens showing all the day's best action.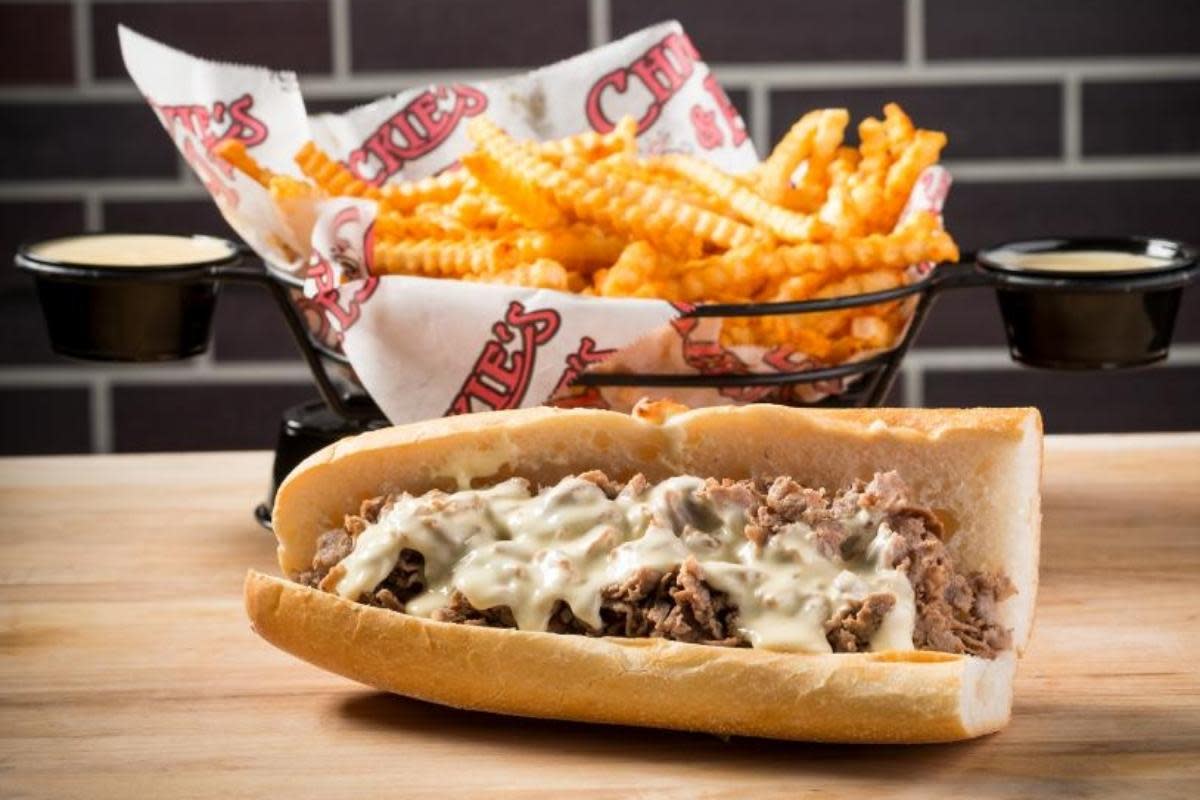 Chickie's & Pete's Crabhouse & Sports Bar at SAHARA Las Vegas
Want to celebrate a victory? Need a beer to say cheers to a better next game? This Bavarian brewhouse, an identical version to the one in Germany, is the place to be. Pair that stein with a giant pretzel or a sausage plate — and don't forget to enjoy the live entertainment!
Rollin Smoke Barbecue and Sushi Joe at T-Mobile Arena
If you find yourself watching some athletic action at T-Mobile Arena, the venue has several culinary offerings to add to your viewing experience. Munch on a chopped brisket sandwich from Rollin Smoke Barbecue, or keep it light and refreshing with some rolls from Sushi Joe. Either way you go, your stomach is gonna win.
Yardbird Table & Bar at The Venetian Resort Las Vegas
Fried chicken is always a good choice, especially after watching a good game in Las Vegas. Yardbird has just that, plus several other delicious options for some postgame fare, including appetizers like the Deviled Eggs (complete with dill, chives and smoked trout roe) or a Fried Green Tomato BLT.
Ghost Donkey at The Cosmopolitan of Las Vegas
Come for the mezcal, stay for the grub at this lounge known for a fiesta with a feast. With shareable bites like Truffle Nachos and Queso Fundido, this is an experience to take in with your crew.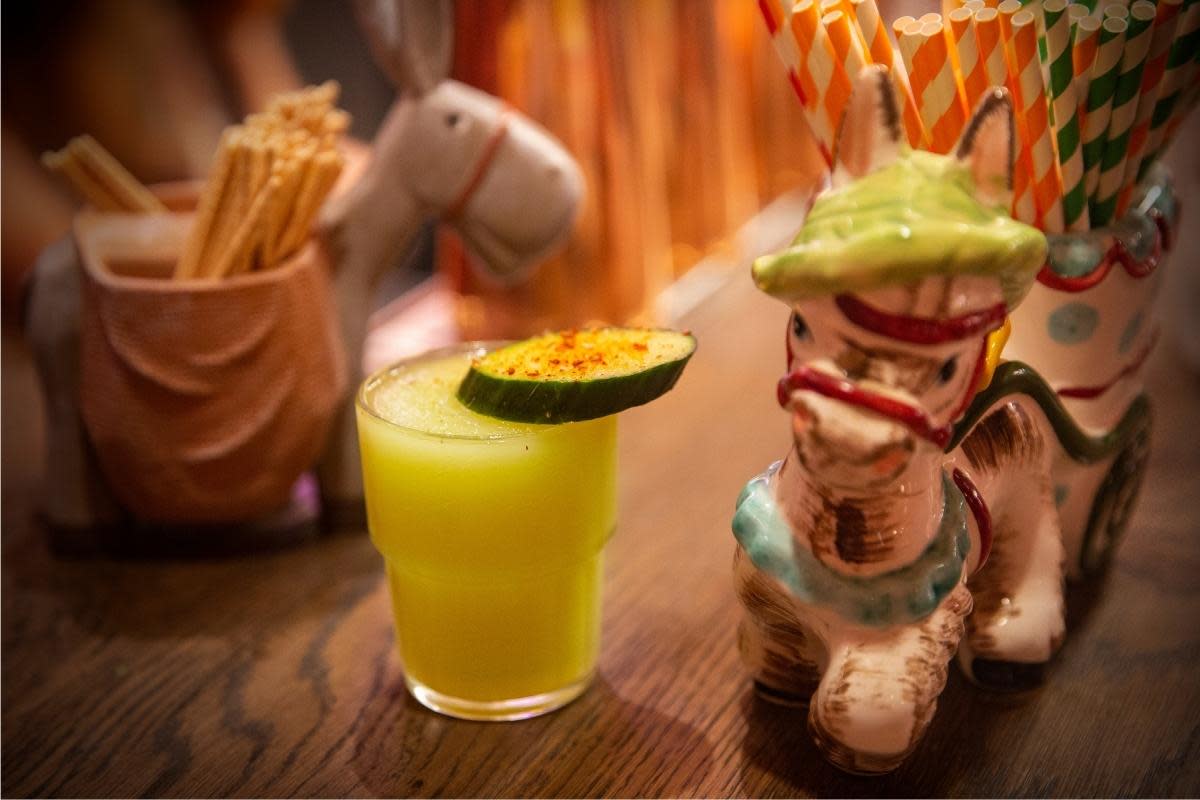 Ghost Donkey at The Cosmopolitan of Las Vegas
There are so many only Vegas experiences to take in after the game. From residencies by top-tier artists and thrilling attractions to the globe's greatest nightclubs and world-class restaurants, your night in Las Vegas is only beginning when that game clock strikes zero. This is The Greatest Arena on Earth — start booking your trip to experience it now!