Defy expectations at these creative locales that suit every wedding style.
By Kate Traverson
Forget everything you thought you knew about Las Vegas weddings—nowadays the venue options are as varied and imaginative as the resorts that line the world-famous Strip. From eye-catching nature scenes to iconic modern landmarks, we've rounded up our favorite picks for an unforgettable ceremony or reception. At these sites, what happens in Vegas is sure to have everyone on your guest list talking for years to come.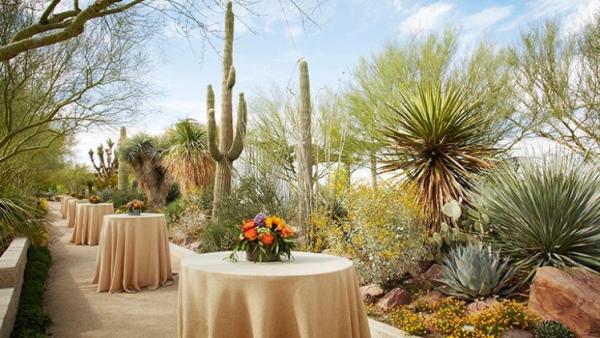 PHOTO BY SPRINGS PRESERVE
1. In the Gardens at Springs Preserve
Getting married in the middle of the desert doesn't mean you can't be surrounded by lush greenery. Eco-friendly and LEED-certified, the museum and gardens at Springs Preserve offer a variety of locations for ceremonies and receptions, from an arbor to an amphitheater. You can even rent the entire botanical gardens, allowing guests to stroll through Cactus Alley and spot butterflies in the Wildlife Garden while sipping champagne.
2. Under the Sea at Mandalay Bay
If you've always dreamed of being a mermaid, Mandalay Bay's Seascape ballroom gives you a fish-eye view of the underwater world in its 1.3-million-gallon aquarium. With floor-to-ceiling windows that peer into the Shark Reef tank, the room is available for both ceremonies and receptions, so guests can watch aquatic creatures swim past as you say "I do."
3. Lakeside at the Westin Lake Las Vegas
A waterfront location might not come to mind when planning a wedding in the desert, but the shores of Lake Las Vegas provide a stunning backdrop for a sunset ceremony or cocktail reception. The lakeside courtyard at The Westin Lake Las Vegas hosts up to 250 guests amid sparkling fountains and fire pits, surrounded by views of the water and mountains. After the ceremony, you can host a dinner on the waterfront, dance the night away in one of its ballrooms or even rent a yacht to cruise around the lake.
4. In the Desert at Red Rock Canyon
Only 17 miles west of the Vegas Strip, Red Rock Canyon is a National Conservation Area with gorgeous rust-colored peaks stretching across its dramatic landscape. This eastern corner of the Mojave desert provides nature lovers with a scenic backdrop for a dazzling desert ceremony. There are two sites in the park designated for weddings, which are available with a Special Recreation Permit you need to purchase 14 days in advance. It's standing room only for up to 50 guests, but several companies offer transportation so you can return downtown to party the night away afterward.
5. At the top of the Eiffel Tower at Paris Las Vegas
Paris is synonymous with romance, but you don't need to trek all the way to France for a wedding with Parisian flair. Instead, say your vows 460 feet in the air on the observation deck of the half-sized replica of Gustave Eiffel's iconic structure at Paris Las Vegas. Surrounded by 360-degree views, you and 12 guests can bask in the glow of the Vegas Strip, followed by a feast of French cuisine one story below at the Eiffel Tower restaurant.
PHOTO BY THE NEON MUSEUM
6. Among Vintage Relics at the Neon Museum
If you're all about classic Vegas, the Neon Museum and Boneyard is a retro glam wedding wonderland that's right up your alley. The outdoor gallery is home to more than 150 vintage neon signs, making for some colorful and cool photo ops. Space is available for ceremonies and receptions, and you can even arrange a guided tour of the gallery for your guests.
PHOTO BY BELLAGIO
7. In Front of the Dancing Fountains at Bellagio
Imagine your first kiss as a married couple accented by a swell of music, lights and a choreographed water spectacle. Shooting over 400 feet in the air, Bellagio's mesmerizing dancing fountains serve as the grand finale for ceremonies on the Terrazza di Sogno. After the dazzling display, you can continue the party with a reception in one of Bellagio's ballrooms or restaurants.
8. High in the Sky at Stratosphere
Want to wed at the top of the world? Stratosphere's Chapel in the Clouds is about as close as you can get. The tallest resort in Las Vegas has four ceremony and five reception sites to choose from, where you can host weddings of all shapes and sizes—up to 240 guests. The commanding views from the 104th and 112th floors spread across all of Las Vegas Valley and the mountains beyond.
PHOTO BY CASHMAN PHOTO
9. In a Hidden Oasis at the Flamingo
If you want to stay in the center of the action, but still have a ceremony that feels worlds away, the Gazebo Chapel at the Flamingo is a tranquil retreat in the middle of the Strip. Surrounded by palm trees, garden flowers and an ivy-covered gazebo, this outdoor venue is a romantic spot to say your vows with up to 100 guests. Bonus: the lush, tropical grounds of the resort include plenty of waterfalls for great photo ops.
The Knot and the Las Vegas Convention and Visitors Authority present Match Made in Vegas, a sponsored series featuring unforgettable venues, insider tips and real-life inspiration to help plan your perfect Vegas destination wedding.