You hear the phrase and immediately know what city is being referenced. The lights, the glamour, the fun. 
Rooted in mystery and granting the ability for visitors to become whoever they want to be when in Vegas, people connect with Las Vegas' brand DNA: 'What Happens Here, Stays Here.'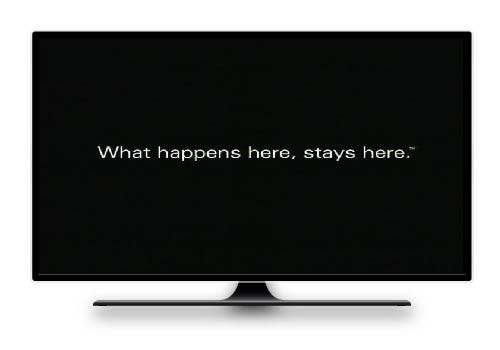 Uniquely Las Vegas:
When 'What Happens Here, Stays Here' (WHHSH) was introduced to the world in 2003, the destination never imagined a phrase would define the Las Vegas experience, especially one based on an emotional connection between visitors and the destination. 

WHHSH shifted the Vegas brand by tapping into a fundamental truth about human behavior – adult freedom – and launched a cultural phenomenon that lives and breathes in visitors and non-visitors alike. 

Visitor volume immediately began climbing during the period following the launch of the campaign, from 35.5 million in 2003; to 37.3 million in 2004; 38.5 million in 2005; and 39.7 million in 2012. 

So, has it continued to work? Ask the nearly 43 million visitors annually who fill the city's more than 150,000 hotel rooms.
Why it's iconic:
The slogan is the most talked about, effective and globally recognized travel branding in the world. Comedians, politicians, media – heck, even your grandma – have used some iteration of the phrase for the past 17 years.

For almost two decades(!), it's been a part of the lexicon and surpasses any other travel brand in its use and reach.

The slogan helped make Las Vegas the second hottest brand in the US in 2007, behind only Google.

The slogan was named one of the top 10 best destination marketing campaigns ever by Forbes Magazine, and in 2011, was inducted into Adweek's Madison Avenue's Advertising Walk of Fame.

The plan was to launch the WHHSH campaign during the 2003 Super Bowl but was rejected by the National Football League (NFL) because, at the time, the NFL associated Las Vegas with gambling (which the league opposed) not because the spot was too racy.

The ad the NFL didn't want you to see created huge media buzz and it took off from there, resulting in huge publicity numbers for Las Vegas.

Fun fact: the slogan had a movie based on its premise in the 2008 rom com What Happens in Vegas. 
'What Happens Here, Stays Here' will always be a part of Las Vegas' identity and will be used for years to come. But just as the destination evolves, the tagline follows suit. In a city full of experiences that are one-of-a-kind, we're proud to say 'What Happens Here, Only Happens Here.'