These experts gave us the inside scoop on what makes Vegas a hot wedding destination.
By Anne Roderique-Jones 
A Las Vegas wedding has few limitations. In this city any request, big or small, can be met. Whether you envision a glitzy ball gown–clad celebration, an intimate family affair or even a rustic desert elopement, the experts in Las Vegas can help you bring any dream to life. We spoke to the insiders—a group of in-the-know Vegas professionals—and persuaded them to spill their best tips and share the destination's hidden gems so you can plan your wedding like a pro.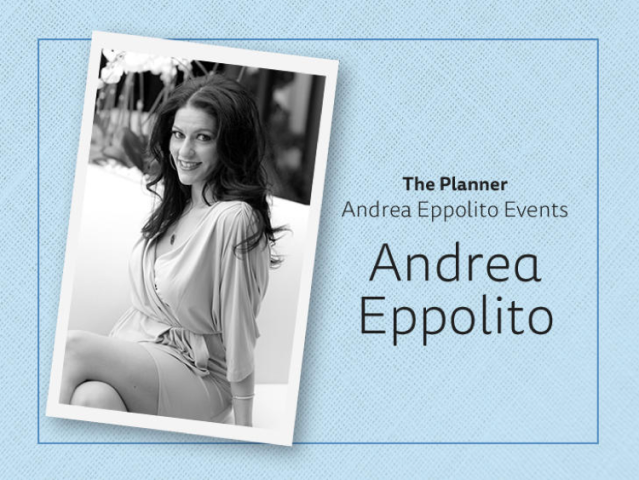 Andrea Eppolito at Andrea Eppolito Events
1. The Planner
Favorite venues: Mandarin Oriental (now Waldorf Astoria Las Vegas), which is all things modern and cutting edge (the ballroom, with a stunning wraparound balcony and a bubble light system, makes guests feel as if they're in a glass of champagne). Also the Four Seasons because it's a legacy brand—for over 100 years they have stood as a benchmark for class, luxury and impeccable service. As non gaming properties, both allow you to experience a change of scenery for a few hours, Eppolito says, "then step right into the heart of the city for your after-party."
Pro tips:
1. Everyone loves Las Vegas! Eppolito says destination weddings here tend to have a higher RSVP rate than other areas, so be prepared for a big percentage of your guest list to say "yes."
2. Give guests some downtime. "With so many great things to do, your guests will appreciate having an afternoon or evening free to explore on their own. For my clients, I create a 'See, Dine and Do' document to share with their guests on the website or via email. It recommends the couple's favorite things to see in Las Vegas, some of the best restaurants and a few fun activities that the couple think their guests would like," Eppolito says.
3. Times have changed. "These days, the city specializes in bespoke events, curated menus, beautifully decorated ballrooms and live entertainment," Eppolito says. "There's a team that specializes in every level of wedding style and budget, from the intimate, elegant elopements you've seen in the past to the most luxe and over-the-top affairs you can imagine. Do your research, and I guarantee you will find a team that can deliver exactly what you are looking for."
What makes Vegas weddings so special? "As a city, we are limitless in our ability to create," Eppolito says. "The teams planning your wedding are made up of the same people who produce the foods in our finest restaurants and the magnificent displays in our most over-the-top resorts and productions. Las Vegas is imagination come to life."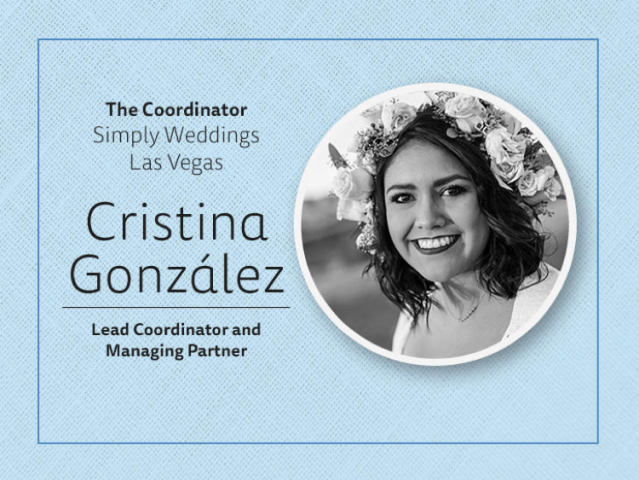 Cristina González, Lead Coordinator and Managing Partner at Simply Weddings Las Vegas
2. The Coordinator
Favorite spots for the rehearsal dinner: Libertine Social at Mandalay Bay for its on-point cocktail program; Joe's Seafood, Prime Steak & Stone Crab, because the food is consistent and it has a large banquet room to seat a private wedding rehearsal party.
Pro tips:
1. Have a clear vision and a budget. "Before contacting any creative partners, have an idea of how you envision your wedding day and what funds you have to spend," González says. "This will help your creative partners in guiding you to the best locations that fit your overall needs, wants and budget. Think about whether you want that classic Vegas feel or a spectacular view of the Strip. Do you imagine having a formal sit-down dinner, or do you want to party at a nightclub with a celebrity DJ?"
2. Do your research, and trust the professionals. "Read reviews, and check their industry credibility and online portfolios before contacting creative partners. And when you do contact them, trust them," González says. "They will guide you in the right direction to make sure you are taken care of." After all, Las Vegas is big on hospitality.
3. Look for the IWED stamp of approval. "Las Vegas welcomes all types of couples from any background to wed here and is very same-sex friendly," González says. "One great local resource called IWED Vegas lets couples take advantage of suppliers' discounts and services for their wedding day—and all partners are same-sex friendly."
What makes Vegas weddings so special? "The city has so much to offer, and we love to do things out of the box, like hosting a reception in a nightclub or a hospitality suite overlooking the entire city. The options are endless, and we are constantly innovating."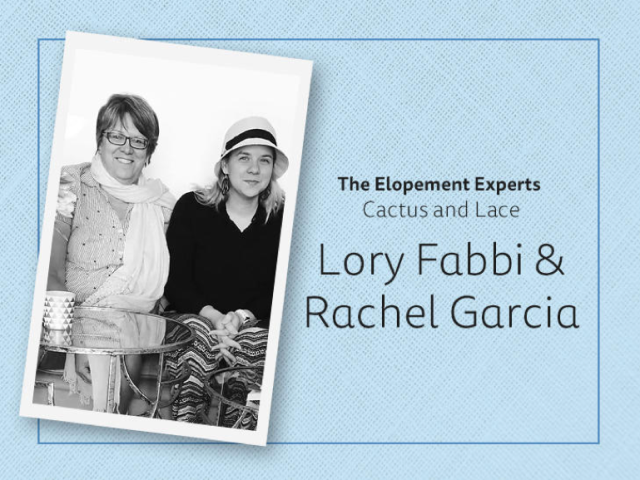 Lory Fabbi and Rachel Garcia from Cactus and Lace Weddings, an all-inclusive modern elopement experience
3. The Elopement Experts
Favorite venues: The Valley of Fire State Park or surrounding deserts of Las Vegas and Spring Mountain Ranch State Park
Pro Tips:
1. Check your date. Las Vegas is in the Mojave Desert, so consider the temperature if you plan to celebrate outside in summer or even the beginning of September. "Our favorite times of year for outdoor weddings in the Valley of Fire are the fall and early spring through the end of May," Fabbi says.
2. Make it personal. With so much to choose from, it's easy to completely customize your day."You'll find luxurious hotels, mansions and estates for rent, five-star restaurants at the top of a skyscraper and world-class chefs working their own food trucks—all notables in the food industry," Fabbi says. "Or even head to In-N-Out Burger, which was a personal after-wedding treat—in complete wedding attire, no less—for several of our recent couples."
3. You can get a license in a flash. Destination weddings typically require major legwork, but this is one less thing you'll need to worry about. "In Vegas, we make it very easy to get a wedding license from our Clark County Clerk office," Fabbi says. It's open 365 days a year and known for fast service. "It's literally in and out."
What's special about a Vegas wedding? "Las Vegas has been doing weddings for a long time," Fabbi says. "We have evolved. While we do offer Elvis for those Elvis fans, you'll also find some of the most elegant, romantic, beautiful and sophisticated weddings available anywhere."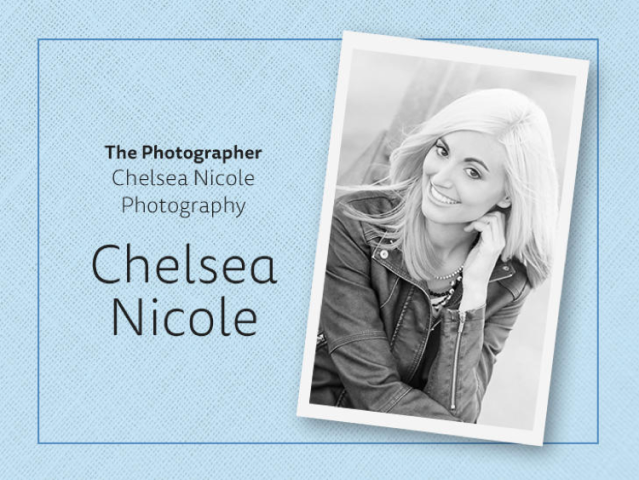 Chelsea Nicole at Chelsea Nicole Photography
4. The Photographer
Favorite Vegas photo shoot locations: Downtown for urban street art during the day and bright neon lights at night, the city center for skyline views and a city-chic vibe, The Neon Museum for something different and fun and the desert for dramatic landscapes.
Pro Tips:
1. Consider a day-after session. "If you dream of epic expanses of the desert or the funky, artsy vibes of downtown, but your venue is far away, keep in mind that with a bit of planning and creativity, anything is possible," Nicole says. "Talk to your photographer about a day-after session where you get all dolled up one last time and get awesome pics along the way."
2. Ask about photography before you sign. Some Vegas Strip venues do not allow outside photography. "If you fall in love with a venue that has this policy, see if you can negotiate bringing in your own photographer before signing a contract," Nicole says.
3. Embrace the fun atmosphere. "People who book me in Vegas often tell me, 'I don't want it to be a wedding. I want it to be a party.' And this comes from couples having the most elegant affair you can imagine to couples having their wedding at a nightclub," Nicole says.
What makes a Vegas wedding special? "Las Vegas is adventure, style, fun and edgy sophistication all wrapped up into a vibrant package waiting for you to explore it all," Nicole says. "Vegas has a true feeling of abandon to it and sparks the playful, flirty side of my couples."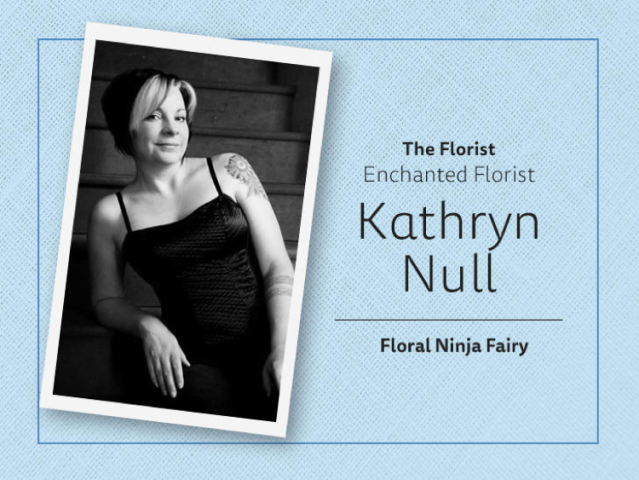 Kathryn Null, Floral Ninja Fairy at Enchanted Florist
5.  The Florist
Favorite flower trend: Using more greenery, like bay leaves, any eucalyptus or other leaves.
Pro tips:
1. Consider the location. "We are in the desert so plan ahead for your florals, some have to get it shipped in," Null says.
2. Get twice the use out of your arrangements. "In Vegas the ceremonies are typically short, but you still want fantastic pictures," Null says. "So we always try to figure out how to move the florals to the reception to do double duty."
3. Plan ahead. "Vegas is the wedding capital, which means a lot of weddings happen here, on and off the Strip," Null says. "Plan as early as possible because vendors and venues book up quickly, especially for spring and fall. If you're quickly planning a wedding event, check with the Las Vegas Wedding Chamber of Commerce for leads on who can provide the service you are looking for."
Best thing about a Las Vegas wedding: "We have so many options, from Mount Charleston to the traditional Vegas drive-through," Null says. "And don't forget about all the country clubs and high-end wedding chapels. You can even get married in a helicopter over the Strip."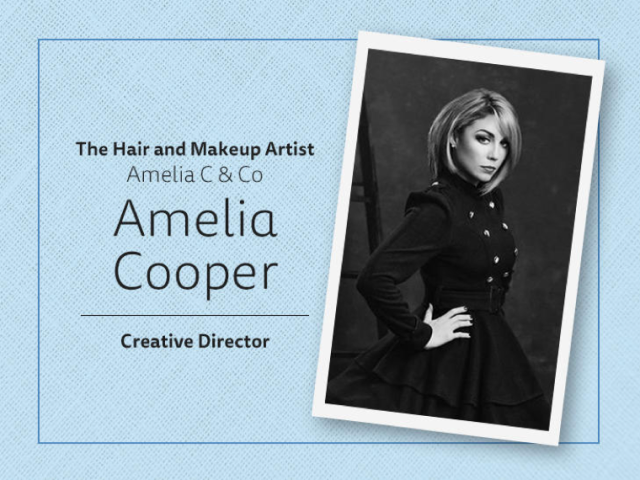 Amelia Cooper, Creative Director at Amelia C & Co
6. The Hair and Makeup Artist
Favorite Las Vegas spas: The Spa at Green Valley Ranch and the Red Rock Spa by Well & Being are incredible—and truly luxurious—escapes from the Strip.
Pro tips:
1. Focus on hydration. "Las Vegas is much drier than most climates, and that combined with alcohol and salty food is a recipe for cakey makeup," Cooper says. "Keep hydrated with water, even if it means setting a phone alarm to remind yourself throughout the day," Cooper says.
2. Go with silicone makeup. Cooper says this ingredient is key for all-day wear. "Silicone-based foundations are ideal because they move and act like skin while being water-resistant and holding up to sweat and tears."
3. Don't be afraid to go glam—it's back. "The messy side bun and natural makeup were lovely, but it's good to be doing grand, full updos and no-holds-barred makeup again," Cooper says. "Bring back lipstick!"
Best thing about hosting your wedding in Las Vegas: "The whole run-away-with-me vibe of a Las Vegas wedding still gives me butterflies, even though I've been in the industry for 13 years," Cooper says.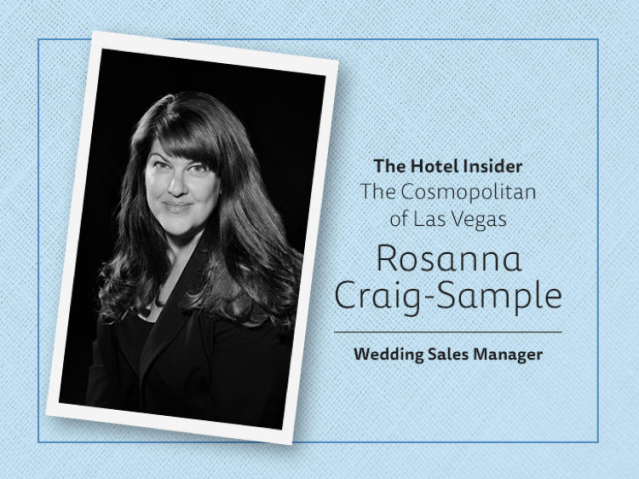 Rosanna Craig-Sample, Wedding Sales Manager at The Cosmopolitan of Las Vegas
7. The Hotel Insider
Favorite late night food stop: Secret Pizza at The Cosmopolitan of Las Vegas is open until 4 a.m.—if you can find it. "It's a hidden location with no sign," Craig-Sample. "Follow the amazing smells on level three down a small unknown hallway for the perfect after-wedding treat."
Pro tips:
1. Book a room with a terrace. "The Cosmopolitan has the absolute best views of Las Vegas," Craig-Sample says. "I love to hear when our couples get to enjoy a romantic sunset with a cocktail on their private terrace. What a perfect way to end your wedding day."
2. Don't fight for attention. Craig-Sample suggests finding a venue that can focus solely on you. "Since we do not host multiple events each day, our weddings feel extremely special, and each couple receive the attention they deserve on their wedding day," Craig-Sample says.
3. Take advantage of your hotel's aesthetics. "As part of the wedding collections, we escort couples on a photo tour and suggest stops such as The Chandelier, which is a three-story lounge and bar that features two million crystals. 
What makes a Las Vegas wedding so special? "Las Vegas is unlike any other city because of its boundless dining and entertainment venues," Craig-Sample says. "This allows couples to focus on themselves as opposed to their guests, who have endless options when it comes to having fun."
The Knot and the Las Vegas Convention and Visitors Authority present Match Made in Vegas, a sponsored series featuring unforgettable venues, insider tips and real-life inspiration to help plan your perfect Vegas destination wedding.