June marks the summer of amazing food in Vegas. Restaurants are releasing their seasonal menus, folks are grubbing outdoors, and the 10th anniversary of Las Vegas Restaurant Week kicks off in the beginning of the month.
Participating restaurants will be offering special lunch, dinner, and wine menus all supporting Three Square Food Bank—a local nonprofit to end hunger in Southern Nevada. Learn more about Las Vegas Restaurant Week here.
1. Simple Salad at HEXX Kitchen + Bar (Paris)
The Simple Salad from HEXX isn't so simple because it is literally made with chocolate. It sounds odd, but the butter lettuce, snow white cheddar, chive and white balsamic vinaigrette, and candied cocoa nibs all together are quite refreshing. The salad is served as a part of HEXX's "Chocolate Spell" prix fixe menu, featuring chocolate in every course.
2. Royal Ossetra Caviar at Twist by Pierre Gagnaire (Waldorf Astoria Las Vegas​)
This dish is for the foodie of all foodies. The Royal Ossetra Caviar boasts ossetra caviar, bone marrow, mimosa egg, mache salad, fresh horseradish, and anchovy purée. Michelin star-winning Chef Pierre Gagnaire likes to cook up traditional French dishes "with a twist" of pretty daring juxtapositions of flavor. Twist is only open for dinner so be sure to make a reservation.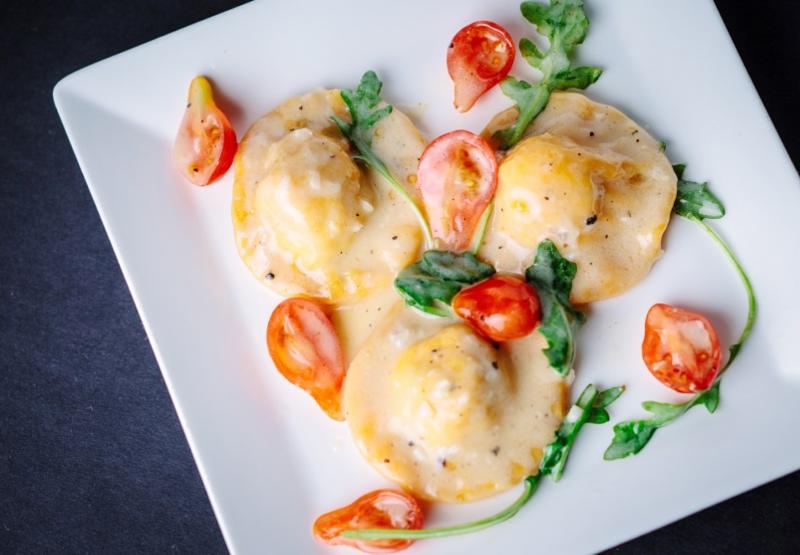 3. Crab Ravioli at La Cave (Wynn Las Vegas)
The Crab Ravioli is just one of the items on La Cave's spring menu. This dish is topped with creamy ricotta, arugula, tomatoes and lemon butter for a traditional yet incredible flavor. La Cave is all about small plates, and is a self-proclaimed "wine & food hideaway" for those who prefer a quiet and intimate atmosphere.
4. Yellowtail Tartare Bruschetta at Foundation Room (Mandalay Bay)
The Foundation Room is notorious for being a great spot to hit for nightlife and good views, but the food is on point as well. The Yellowtail Tartare Bruschetta in particular is delicious, and is just one item on the Asian, Indian, and Mediterranean fusion menu they execute so well.
5. Fried Green Tomato BLT at Yardbird Southern Table & Bar (Venetian)
This mashup of fried green tomatoes and a BLT is made with house smoked pork belly, smoky tomato jam, frisée, pimento cheese, and a pickled lemon vinaigrette. We're big fans of the southern hospitality Yardbird brings to Vegas.
6. The King at Mr. Lucky's 24/7 (Hard Rock Hotel)
The King is made for those with a royally hefty appetite. It features 14 banana pancakes plus 14 strips of bacon with peanut butter glaze and maple syrup drizzled in between. Lucky for you this place is always open so you can get breakfast for dinner.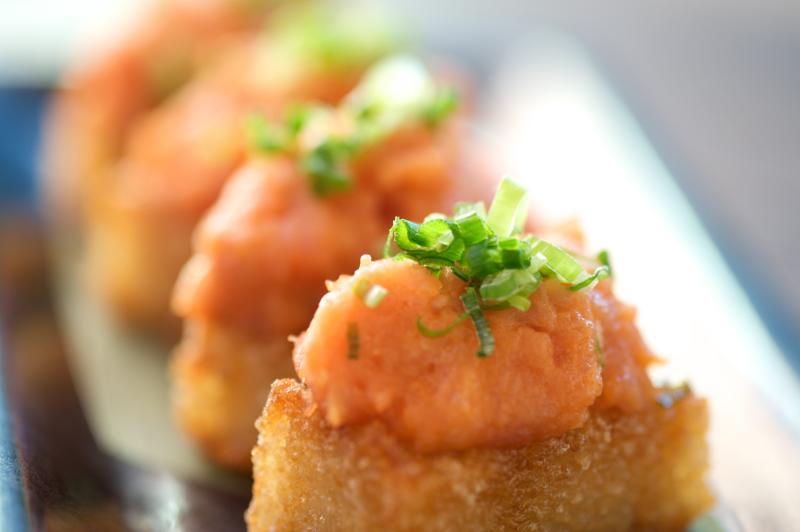 7. Hanabi Spicy Tuna at Sushi Roku (Caesars Palace)
The same Sushi Roku that is wildly popular in Los Angeles now has a location in Caesars Palace. The Hanabi Spicy Tuna is one item on their menu of modern Japanese cuisine that is a must-try, and includes spicy tuna on crispy rice. This place is perfect for tourists and locals alike.